4-day hike around the beautiful Mountains of The Moon
As a family we had been skirting around the Rwenzori Mountains by road for many years on our way to one safari adventure or another. My sister Tray and I finally decided it was time to lace up our hiking boots and head off for a different kind of adventure – a 4-day hike around these beautiful Mountains of The Moon.
Formed three million years ago, the Rwenzori Mountains are the highest non-volcanic mountains on Earth. Located on the border between Uganda and The Democratic Republic of Congo, the perennially snowcapped Rwenzoris rise impressively to their highest peak of 5109 m.
DAY 1:
After a few very spoiling 'prep days' at the fabulously luxurious Kyambura Lodge, we somewhat reluctantly left behind our creature comforts (including our personal butler Gerald!) and headed off to base camp at Kilembe. It took about an hour and a half, driving through valleys that had over the years suffered landslides – villages perched precariously on the edges of the foothills, sustainable farming all around. Just outside Kilembe the heavens opened, and the rain rained as only it can in Africa – a taste of what might be to follow!
Our old friend and Guide Mihindo Dan and his team of porters were waiting for us at Base camp, and we set off speedily, decked out top to toe in waterproof gear in torrential rain – it wasn't long before the clouds moved on and we were able to peel off a layer or two and concentrate on the start of our 4-day waterfall trail. By the time we reached the park gate at 330m I was very pink, out of breath and worried I might not be able to keep up the pace – Mihindo Dan and my sister were hardly puffing at all and I regretted not putting in a few gym hours before leaving Kampala!
Walking through the Afro Montane, we had a rude introduction into what to expect physically – it was quite a brutal 6 kilometer, seemingly vertical, climb up to Sine Camp. It took about 5 hours with one or two water breaks on the way but the views just got better the higher we went.
In the camp we were given a welcome bowl of hot water to wash in, plenty of hot, sweet tea and cold mountain water to drink. The porters conjured up a delicious plate of hot food and then we retired to bed early. As we were the only two trekking, we had the dormitory to ourselves and were able to spread out our wet clothes to dry and crawl into our sleeping bags for a very peaceful night.
DAY 2:
The next morning after more hot, sweet tea and an enormous breakfast we walked up what felt like a thousand steps, through the Bamboo-Mimulopsis Zone to Kalalama at 3134m, the start of the heather zone. Here the mobile phone network vanishes and so, leaving my husband and 4-year-old daughter to their own devices for the first time ever, I switched it off and started to really enjoy the incredible beauty of the mountain. The vegetation and environment changed at every turn, unique and extraordinary flora found above 3000m such as giant heather trees, trunks covered in moss and old man's beards (Usnea Lichen) hanging from their branches.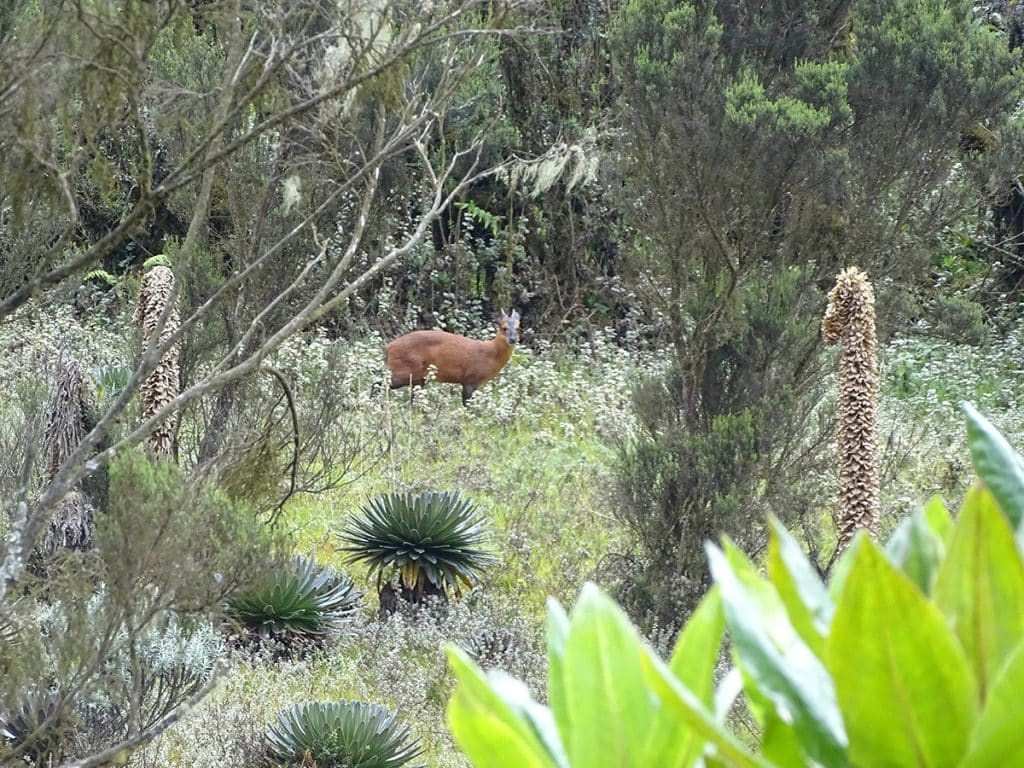 The main reason for my wanting to do this hike is the incredible Giant Lobelia Garden (Chengora) found at 3427m. Stunning pinks and greens, an area covered in these incredible plants, moss beds and other extraordinary vegetation. We sat eating our picnics in silence, taking in the incredible surroundings. At one point a red duiker appeared out of the green, we really were so very lucky.
We headed off to our next camp and arrived in the warm afternoon sunshine at Samalira Camp at 3430m. After exploring the surrounding waterfalls, we settled onto our verandah just as the clouds came down and the rain set in. The porters whipped up another plate of delicious hot food and set up a charcoal 'jiko' for us to huddle over as no open fires are allowed on the mountain. The chill had set in so I was in at least 6 layers of clothes by now!
DAY 3:
Another early morning, another huge breakfast and off we set in yet another torrential rainstorm, vertically up into the forest towards the Kamalah falls. Then higher still to Cathys Falls. The rain eventually stopped, and the sun came out again, so the layers peeled off as we descended in the sunshine first to Nyamwamba Falls and then the Polozza Falls. The scenery all the while continued to be extraordinarily beautiful. Finally, down to Engwe Falls and on to our final camp – Forest View Camp at 2580m. (Going down is every bit as tough as going up!)
We found our last night on the slopes really cold – probably because we were so tired. A noisy night with the rain hammering down on the tin roof of our little hut.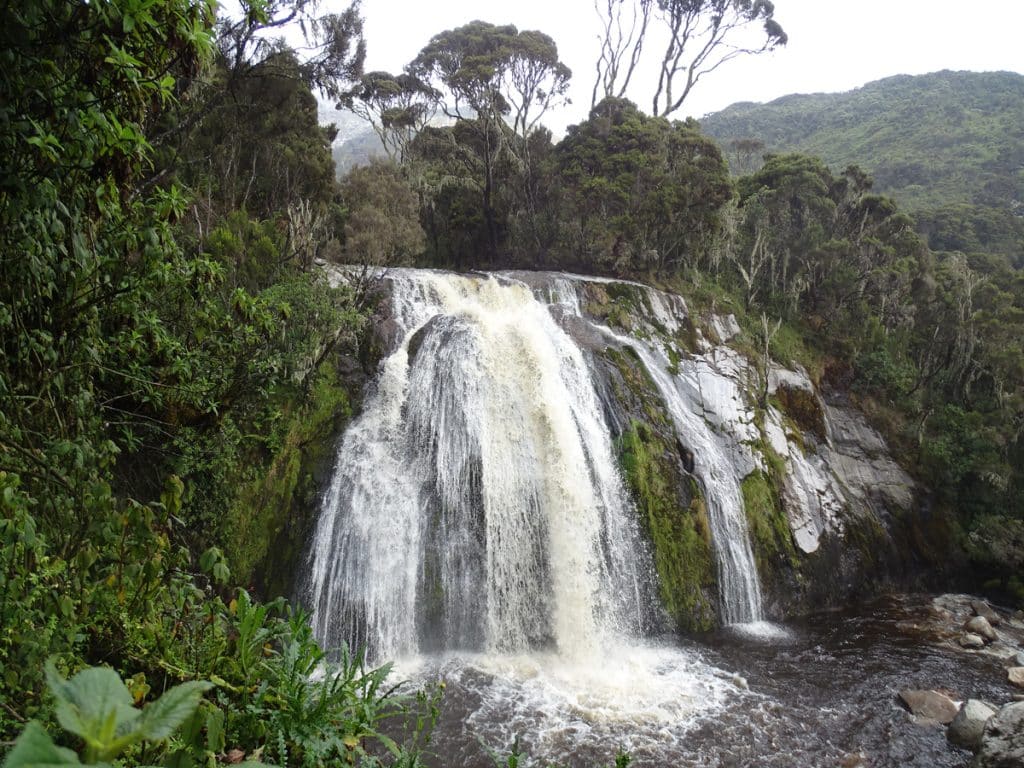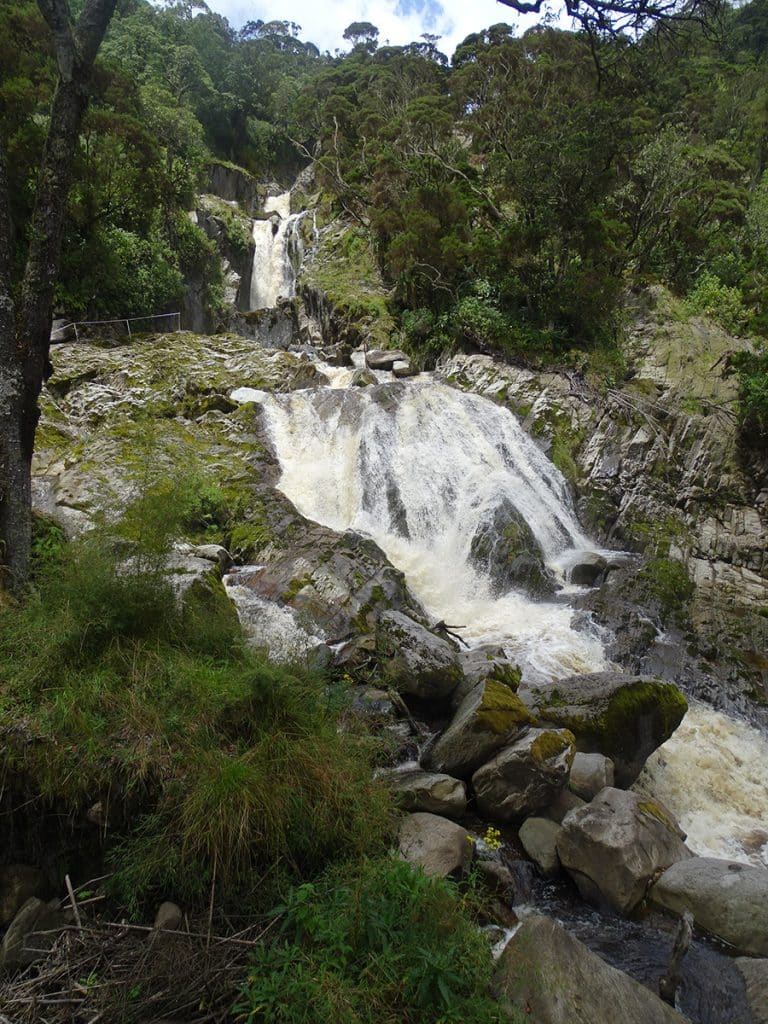 DAY 4:
Early start, bags packed and a swift 1000m back down to base camp – signing out at the ranger station on the way. It was a bit of a route march but an enjoyable one – monkey spotting, bird watching and drinking in the incredible scenery all the way. Plenty of chat and laughter and a huge appreciation of these incredible mountains. It was a wonderful experience – made even more special because of the time spent with my sister who I only get to see once a year.
A quick call home to check in and a stop off in Kasese for the most delicious Ice cream ever eaten!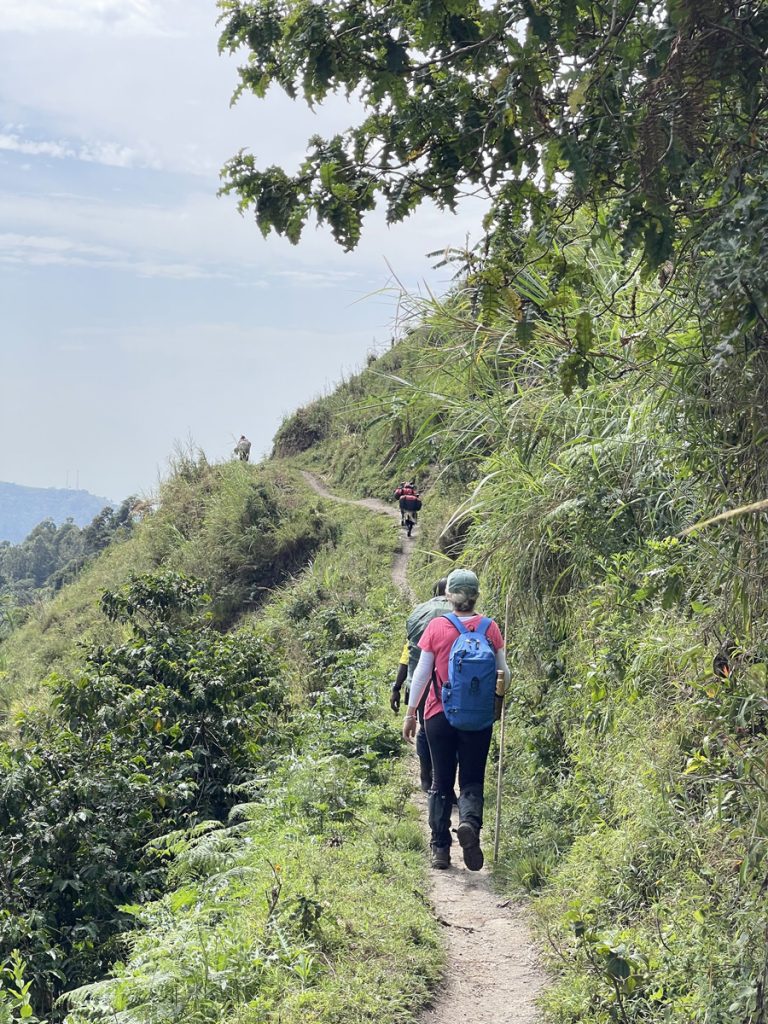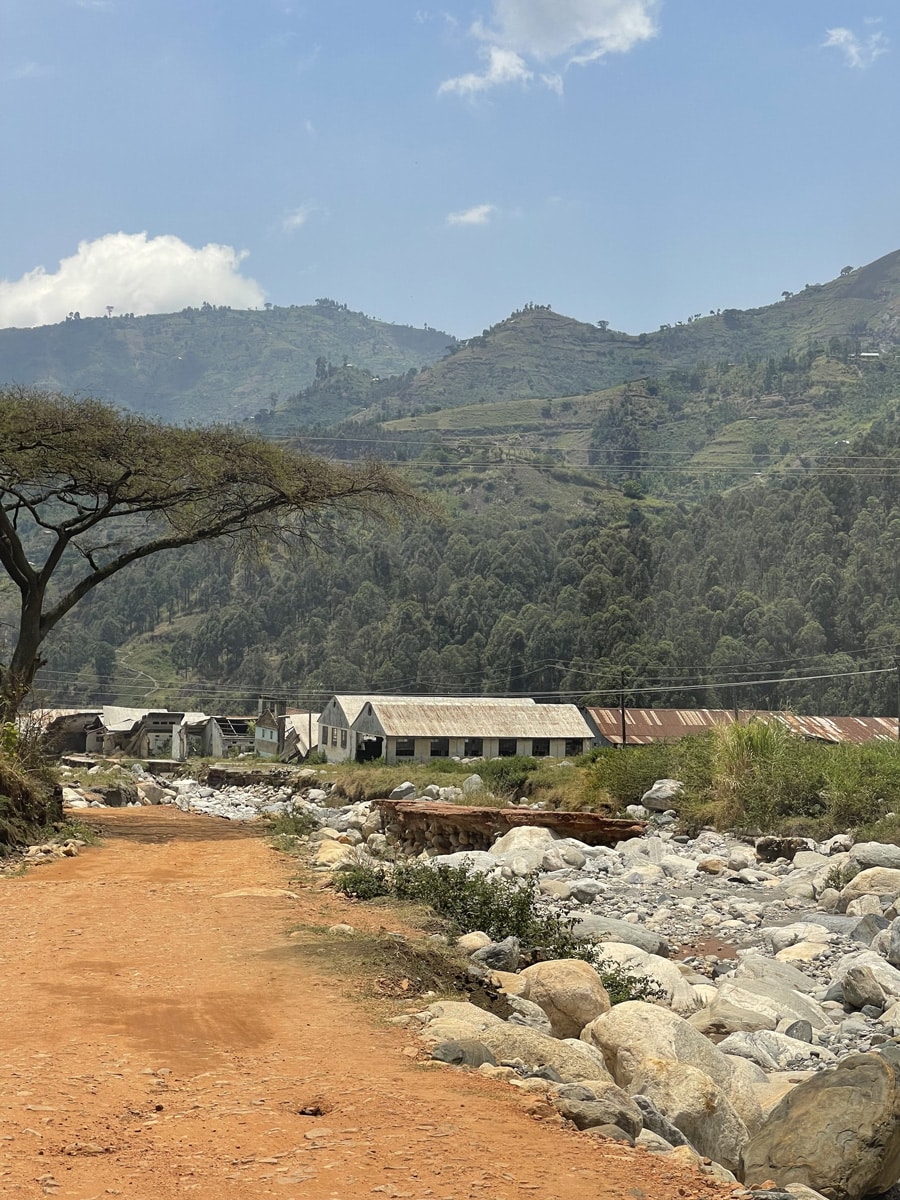 Off to Ndali Lodge to see Uncle Aubrey and Clare for some much-needed R&R, a soft bed and delicious food.
We may well return after a bit of gym time and have a crack at the summit! But next time I think we might head up in a helicopter!